How to Grow Your Audience, Connect with Your Tribe and Sell Out Your Programs Using Only Facebook Live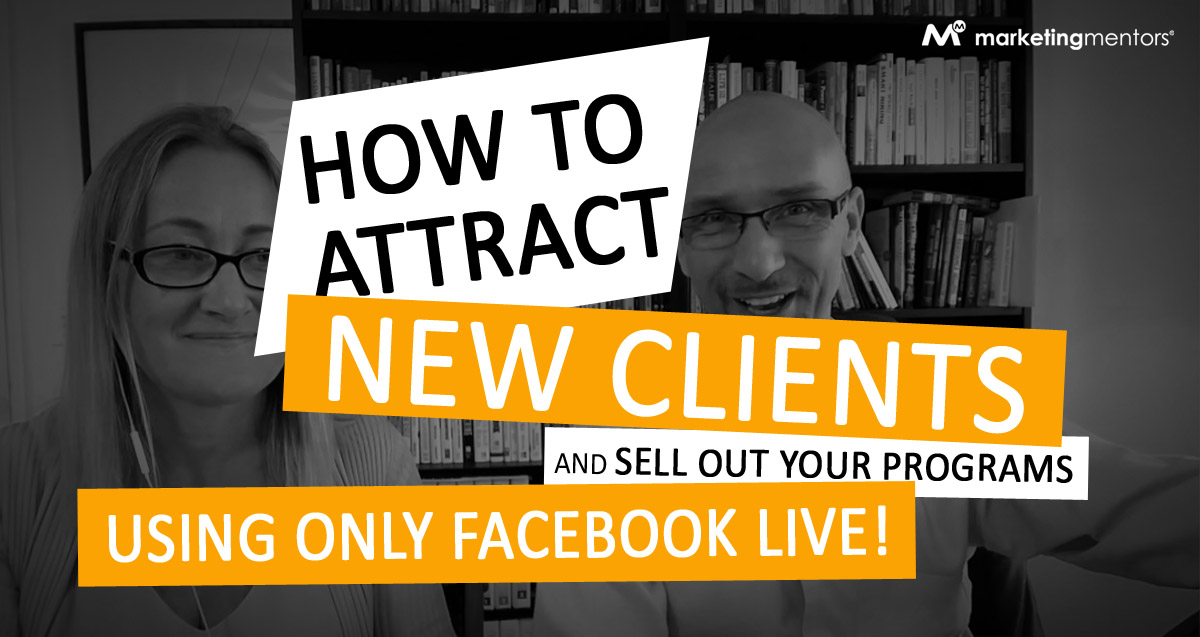 Video is the hottest marketing tool. Now Facebook Live makes it EASY and FREE to use for everyone!
Using video to market yourself has been gaining massive momentum for years. But despite the fact that near everyone is carrying a high-qualify, easy to use camera in their pocket (a.k.a. smart phone) most entrepreneurs are sluggish (at best) with embracing video.
Now another tool is making it even easier. And it comes with a built-in audience. No uploads, no messing with any codes. No expensive or complicated equipment needed. Just whip up your phone, point and broadcast.
Welcome to Facebook Live!
But how exactly do you use it to grow your audience? To connect with your tribe? And – most importantly – to get more clients and grow your sales?
And how do you get the confidence to get on camera and broadcast live? How do you know what to say? Arghhh… All the questions! Where do you start?
We've got you covered.
Meet Molly Mahoney – The Prepared Performer, who's using her experience performing on stage into a success with Facebook Live. While everyone is worrying about the number of views and "likes", Molly uses FB Live to sell out her coaching programs. Wanna know how?
Yeah, I thought you would… Watch this episode of the Marketing Mentors Show and find out!
How to Use Facebook Live to Promote Your Business…
Here's a quick guide what's in this episode:
00:35 – Welcome to the Marketing Mentors Show
01:25 – Having fun with the broadcasting technology.
02:45 – Let's talk about building your list and getting more visibility.
04:05 – 3 tips to get you started with generating more leads.
06:00 – The psychology of list building.
07:29 – The "secret" method to start building your list without feeling like a sleazy marketer, or begging for optins.
10:36 – 3 easy to use tools you can use to start building your list in the next 30 minutes.
12:45 – Adam uses advanced "stealth NLP" to promote his live event! ;)
14:00 – Introducing our guest, Molly Maloney.
17:01 – Molly shares one of the BIGGEST BENEFITS of using Facebook Live
18:09 – 3 things stopping people from using video and getting on Facebook Live to build their audience.
19:38 – A HUGE TIP how to get started when you don't feel very confident in your topic yet.
21:08 – Adam's secret method for learning stuff others miss when watching masters do "their thing."
22:56 – Molly dishes out 3 tips for getting your "camera confidence" on.
24:45 – "S.A.V.E. you awesome quesadilla" – say what? You just have to watch it. This tip is priceless!
25:50 – How to create your "stage persona" that you absolutely love!
27:15 – The secret to dealing with bad comments (everyone gets them – you'll, too!)
28:10 – Learn the "trick" to giving a lot of value without giving out all your content for free.
29:07 – Another trick for sounding great on camera.
30:10 – Adam "outs" Molly; literally revealing some of her "behind the scenes" tricks LIVE on camera!
33:15 – The secret to becoming a "confident performer" and a  "prepared marketer."
35:29 – Molly reveals a simply strategy anyone can copy how she got to be so good at doing Facebook Live.
36:55 – Adam's repeats his all time favorite tip how to quickly get better at what you do.
37:37 – Molly shares how she used FB Live to sell out her coaching program.
39:19 – Brilliant strategy for accelerating your exposure by leveraging other people's audiences – for FREE!
40:59 – Adam doesn't give a sh*t about this…
43:23 – A BIG MISTAKE to avoid when using FB Live presentation to sell…
45:25 – How smart entrepreneurs get ahead…
46:05 – Adam uses another advanced NLP technique to promote his marketing training event that can multiply your sales and profit by nine time or more! ( It's so stealth you might actually miss it!) ;)
47:54 – Molly's "3 tips for success" in 60 seconds…
49:20 – The show is hijacked and craziness ensues!
50:05 – Bo sums up the entire 50 minutes of wisdom in just a few words…
51:06 – Adam uses the cover of the show to make an indecent proposal (once again, using highly advanced NLP!) ;)
— That's it… The fun is over… Well, that went by fast!
I hope you enjoy watching it as much as we enjoyed preparing and sharing this episode.
Feel free to comment on the video. Let us know where you're joining us from and how you're using FB Live in your business. Maybe link to one of your FB Live videos? That would be fun. ;)
Until next time… Here's to your success – cheers!